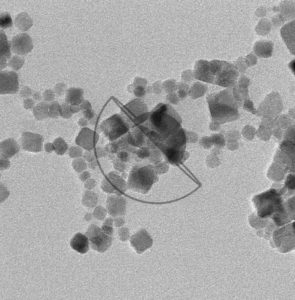 Cobalt oxide nanoparticles (Co3O4) is a mixed-valency oxide that in its nanocrystalline form finds applications as heterogeneous catalyst for a variety of reactions.
We at Particular Materials synthesize nano Co3O4 and we produce dispersions with excellent stability, monodispersity and fully disaggregated state.
Technical Information
Our Cobalt oxide (Co3O4) nanoparticles portfolio consist of particles with diameters ranging around 14 nanometers and find applications in several industries.
Co3O4 nanoparticles can be exploited as chemisensor and dielectric material. Low particle size, p-type conductivity, dual energy band gap, well crystalline nature, the high value of dielectric constant, low value of dielectric loss, and good ac conductivity demonstrate the potential candidature of Co3O4 nanoparticles as efficient charge carriers in chemical sensors and capacitors.
Co3O4 Cobalt Oxide nanoparticles are used as the anode materials of lithium‐ion batteries. Cobalt oxide nanoparticles, offer high surface-to-volume ratio and short path length for lithium cation transport, leading to high discharge capacity and superior cycling reversibility.
Cobalt oxide particles may be anchored on substrates to improve the dimensional stability of the anode and to prevent particle aggregation during lithium charge and discharge processes.
In order to be able to take advantage of the various properties of Cobalt Oxide (Co3O4) nanoparticles, significant care needs to be taken in controlling size, monodispersity and crystalline structure.
We at Particular Materials synthesize nano Co3O4 and we produce dispersions with excellent stability, monodispersity, crystalline purity and fully disaggregated state.
Please download our Technical Data Sheet for complete information.
The Co3O4 nanoparticles are available in one size:
Typical concentration in water are, by weight (w/w%):
Co3O4 can also be provided as nanopowder.
Related Applications and Industries
Other key applications of cobalt oxide nanoparticles are as follows:
In micro-electronics
As a magnetic nanoparticles
In catalysis, superconductors, electronic ceramics
In temperature and gas sensors
In electrochromic devices
A peculiar characteristic of all nanoparticles is the high surface area to volume ratio, that allows a considerably higher binding capacity and excellent dispersibility of NPs in solutions.
For more detailed technical information, please download our technical data sheet.
Pricing
Selected nanotechnology research articles
Time-resolved observations of water oxidation intermediates on a cobalt oxide nanoparticle catalyst. M. Zhang, M. de Respinis, H. Frei Nature Chemistry volume 6, pages 362–367 (2014).
Nanomolar detection of hydrogen peroxide on glassy carbon electrode modified with electrodeposited cobalt oxide nanoparticles. A. Salimi, R. Hallaj, S. Soltanian, H. Mamkhezri, Analytica Chimica Acta, Volume 594, Issue 1, 2007, Pages 24-31.
Graphene Anchored with Co3O4 Nanoparticles as Anode of Lithium Ion Batteries with Enhanced Reversible Capacity and Cyclic Performance. Z.S. Wu, W. Ren, L. Wen, L.Gao, J. Zhao, at al ACS Nano 2010 463 187-3194.