Tin oxide nanoparticles (SnO2) is a n-type semiconductor with a wide band range,  suitable for thin film engineering, functional coating applications. conductive inks as well as optoelectronic devices and solar cells.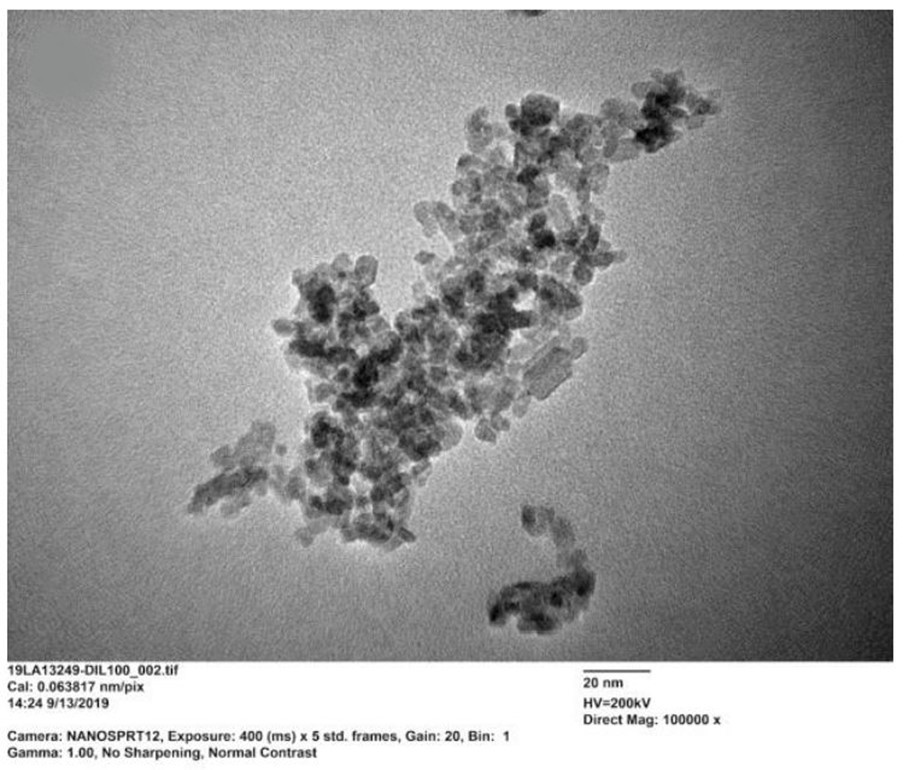 We at Particular Materials synthesize nano (SnO2) and we produce and supply dispersions with excellent stability, monodispersity and fully disaggregated state.
Technical Information
SnO2 nanoparticles are extrinsic semiconductors where oxygen acts as the electron donor atoms. These electronically neutral molecules provide an excess of negative electrons to the crystal lattice of SnO2 nanoparticles.
This allows SnO2 to cover several functions in the electronic industry, such as:
Electron injection
Electron transport
Hole blocking
Charge recombination
 It′s unique characteristics such as low cost, high gas sensing abilities, low response time and fast recovery makes it a promising material for gas sensors.
Other important markets for tin dioxide are OLEDs, OPVs, Perovskite PVs, QLEDs and printed photodetectors.
Tin oxide nanoparticles have magnetic properties that allow their use in magnetic data storage and magnetic resonance.
In order to be able to take advantage of the various properties of Tin Oxide (SnO2) nanoparticles, significant care needs to be taken in controlling size, monodispersity and crystalline structure.
We at Particular Materials synthesize nano SnO2 and we produce and supply dispersions with excellent stability, monodispersity and fully disaggregated state.
Please download our Technical Data Sheet for complete information.
The SnO2 nanoparticles are available in two different sizes:
Typical concentration in water are, by weight (w/w%):
SnO2 can also be provided as nanopowder.
Related Applications and Industries
Catalysts
Transparent heating elements
Anti-static coatings
Electrodes and antireflection coatings in solar cells
Gas sensors
Energy-conserving coatings
Optoelectronic devices
Resistors
Liquid crystal displays
A peculiar characteristic of all nanoparticles is the high surface area to volume ratio, that allows a considerably higher binding capacity and excellent dispersibility of NPs in solutions.
For more detailed technical information, please download our technical data sheet.
Pricing
For prices up to 1kg, please click here and visit our shop. Free shipment.
For bulk supply and pricing, please click here and request a free quotation now.
Selected nanotechnology research articles
Photoluminescence Properties of SnO2 Nanoparticles Synthesized by Sol−Gel Method. F. GuShu, F. WangMeng, K. LüGuang, J. ZhouDong, X. R. Yuan. J. Phys. Chem. B 2004 108 24 8119-8123.
A Novel Mechanism for the Synthesis of Tin /Tin Oxide Nanoparticles of Low Size Dispersion and of Nanostructured SnO2 for the Sensitive Layers of Gas Sensors. C. Nayral, T. Ould‐Ely, A. Maisonnat, B. Chaudret, P. Fau, L. Lescouzères, A. Peyre‐Lavigne Advanced Materials Volume 11, Issue 1.
Properties of SnO2 based gas-sensing thin films prepared by ink-jet printing. W. Shen, Sensors and Actuators B: Chemical Volumes 166–167, 20 May 2012, Pages 110-116.
Structural, Optical, Morphological and Microbial Studies on SnO2 Nanoparticles Prepared by Co-Precipitation Method.  Journal of Nanoscience and Nanotechnology, Volume 18, Number 5, May 2018, pp. 3511. Arularasu M. V; Anbarasu M ; Poovaragan S et al.
Peptide-Induced Biomineralization of Tin Oxide (SnO2) Nanoparticles for Antibacterial Applications. Journal of Nanoscience and Nanotechnology, Volume 19, Number 9, September 2019. Singh Ajay Vikram  , Jahnke Timotheus  et al.
Ultrafine SnO2 nanoparticles anchored in the porous corn straw carbon substrate for high-performance Li-ion batteries application. Zhiqing Hu, Xinfeng Xu, Xiaofeng Wang, Kaifeng Yu, Ce Liang. Journal of Alloys and Compounds, Volume 835, 2020
Bio-based Synthesis and Applications of SnO2 Nanoparticles – An Overview. J. Mater. Environ. Sci., 2018, Volume 9, Issue 10, Page 2894-2903
Fabrication of leaf shaped SnO2 nanoparticles via sol–gel route and its application for the optoelectronic humidity sensor. Praveen Kumar, Shubhangi Khadtare, Jinsub Park, B.C. Yadav. Materials Letters, Volume 278, 2020
Optimization of SnO2 Nanoparticles Confined in a Carbon Matrix towards Applications as High-Capacity Anodes in Sodium-Ion Batteries. Shenying Wei, Shiyong Chu et al. 2018